Miller Investment
Miller Frishman Group has over thirty years of experience acquiring, owning and managing multifamily apartment communities. As a privately held company, Miller Frishman Group is able to move quickly when properties meet a strict set of investment criteria and adhere to the conservative investment philosophy.
Miller Frishman Group targets newer, stable, and strong cash flowing deals in rapidly growing markets, striving to deliver above-market returns. These assets are typically underperforming due to a myriad of reasons ranging from current management issues to major deferred maintenance and aesthetic issues.
Since the early 80s, Miller Frishman Group acquired in excess of $3 billion dollars of real estate representing over 26,000 apartment units, consistently producing noteworthy returns. Miller Frishman Group has amassed a current portfolio of more than 650 units and has maintained very strong individual property performance throughout the portfolio.
For more information or to have a property considered for acquisition, please feel free to submit an e-mail or call. The firm will quickly evaluate opportunities presented and respond rapidly.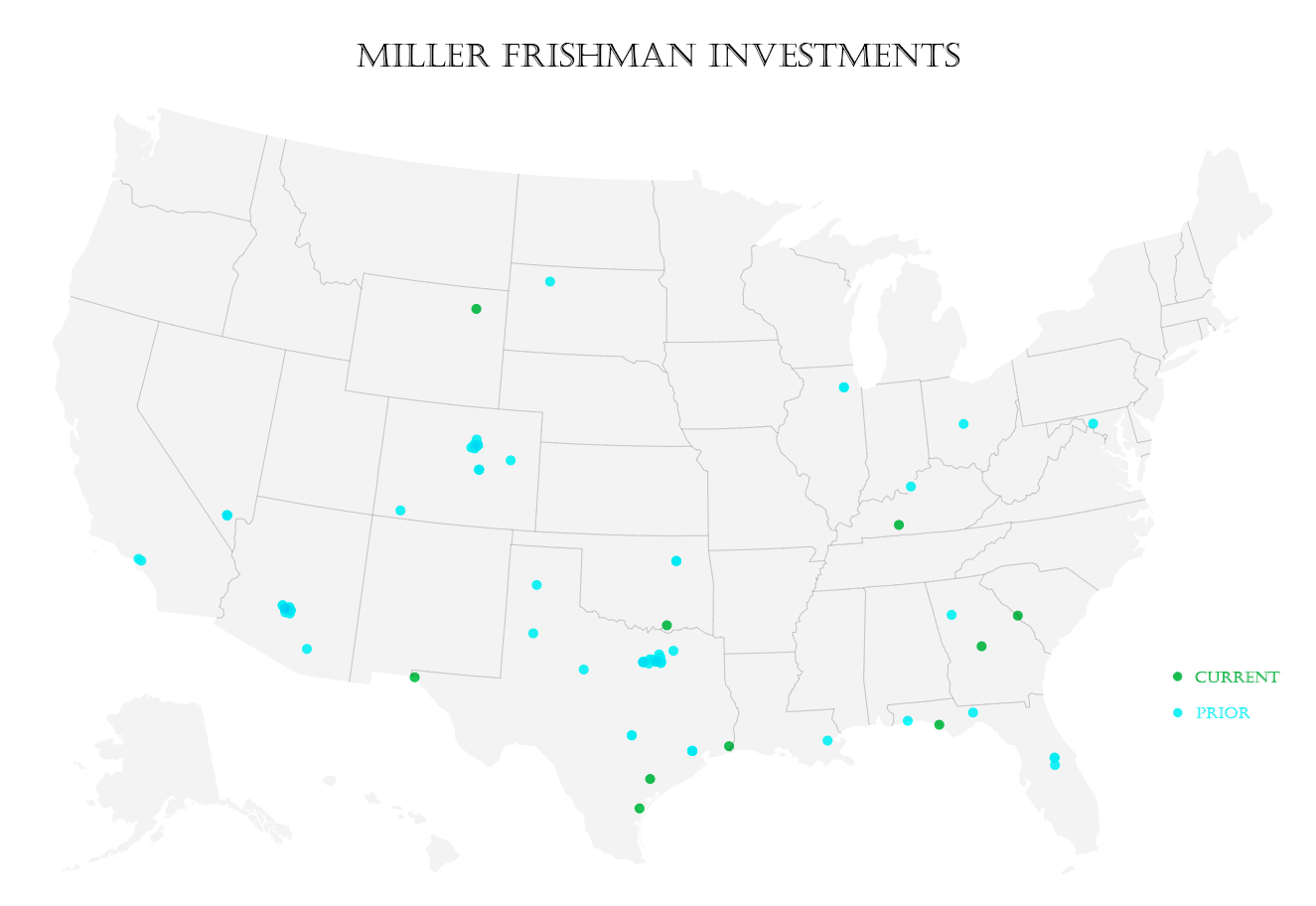 Current Total (657)

Property
Unit
Responsibility
Point Royale | Victoria, TX
120
Own/Manage
Tuscany At Mesa Hills | El Paso, TX
369
Own/Manage
Villages At Sugar Road | Edinburg, TX
168
Own/Manage
Prior Total (25,510)

Property
Unit
Responsibility
Arbors of Dublin | Dublin, OH
288
Managed
Bayberry Place | Tulsa, OK
224
Owned/Managed
Beacon Hill | Dallas, TX
396
Managed
Bella Vista | Phoenix, AZ
16
Managed
Bent Tree & Country Place | Ft. Worth, TX
528
Owned/Managed
Brentwood |Aurora, CO
294
Managed
Brentwood Terrace | Euless, TX
192
Managed
Bridgeport | Dallas, TX
312
Managed
Brigham Woods | Augusta, GA
204
Owned/Managed
Broadway Village | Mesa, AZ
155
Managed
Buckingham Station | Aurora, CO
404
Owned/Managed
Carlisle | Houston, TX
128
Owned/Managed
Casa Tierra | Phoenix, AZ
200
Owned/Managed
Catalina | Las Vegas, NV
321
Owned/Managed
Cayo Grande | Pensacola, FL
342
Owned/Managed
Central Park |Mesquite, TX
110
Managed
Chenault Creek I & II |New Orleans, LA
312/272
Owned/Managed
Chesapeake | Ft. Worth, TX
272
Managed
Chesterfield | Houston, TX
254
Owned/Managed
Cinnabar | Phoenix, AZ
430
Owned/Managed
Clearwater Farm | Louisville, KY
472
Owned/Managed
Cochran | Los Angeles, CA
8
Managed
Coffee Creek | Ft. Worth, TX
336
Managed
Concordia | Lakewood, CO
168
Managed
Conifer Landing | Denver, CO
224
Managed
Continental Park | Tallahassee, FL
24
Managed
Copper Terrace | Orlando, FL
300
Owned/Managed
Crestmark | Lithia Springs, GA
334
Owned/Managed
Crossroads at Cooks | Ft. Worth, TX
292
Owned/Managed
Cumberland Trace | Bowling Green, KY
144
Owned/Managed
Desert Crest | Glendale, AZ
66
Managed
Desert Shadows | Tucson, AZ
339
Managed
Dove Tree | Colorado Springs, CO
288
Owned/Managed
Lark Haven| Colorado Springs, CO
264
Owned/Managed
Tanager Meadows | Colorado Springs, CO
264
Owned/Managed
Dunlap Square | Phoenix, AZ
192
Managed
East Holly |Phoenix, AZ
6
Managed
Englebrook | Austin, TX
80
Owned/Managed
Pine Forest | Austin, TX
286
Owned/Managed
Falcon Glen | Mesa, AZ
402
Owned/Managed
Four Horizon | Aurora, CO
420
Owned/Managed
Franciscan | Arlington, TX
418
Owned/Managed
Galleria | Tulsa, OK
256
Owned/Managed
Gates deProvence | Dallas, TX
200
Owned/Managed
Glen Eagle | Tulsa, OK
424
Owned/Managed
Greyson's Gate | Dallas, TX
272
Owned/Managed
High Meadow | Durant, OK
208
Owned/Managed
Hickory Ridge | Aurora, CO
688
Owned/Managed
Hilldale | W. Hollywood, CA
6
Managed
Houston Lake | Warner Robins, GA
300
Owned/Managed
Hunter's Glen | Aurora, IL
320
Owned/Managed
Hunters Ridge | Phoenix, AZ
428
Managed
Huntington Chase | Irving, TX
260
Owned/Managed
Kings Mill | Ft. Worth, TX
272
Managed
Lakes | Houston, TX
162
Owned/Managed
Landmark (Condos) | Greenwood Village, CO
271
Managed
Lumiere Telluride (Condos) Mountain Village, CO
13
Managed
Meadows at Park Blvd. | Plano, TX
368
Owned/Managed
Meadowwood | Irving, TX
320
Managed
Mill Creek | Abilene, TX
176
Owned/Managed
North 25th Street | Phoenix, AZ
56
Managed
Oak Glen | Garland, TX
150
Owned/Managed
Oakhurst | Aurora, IL
320
Owned/Managed
Oak Ridge | Aurora, CO
472
Owned/Managed
Oakwood Estates | Ft. Worth, TX
280
Owned/Managed
Palm Gardens | Mesa, AZ
97
Managed
Palm Hills | Las Vegas, NV
113
Managed
Paramount Terrace | Amarillo, TX
181
Owned/Managed
Park Westwood | Houston, TX
126
Owned/Managed
Peakview Pointe | Englewood, CO
73
Managed
Pier Point VI (Condos) | Aurora, CO
79
Owned/Managed
Polo Run I & II | Kissimmee, FL
268
Owned/Managed
Purgatory Lodge (Condos) | Durango, CO
37
Managed
Quail Brook | Balch Springs, TX
208
Owned/Managed
Quail Creek | Balch Springs, TX
276
Owned/Managed
Remington Village | Gillette, WY
216
Owned/Managed
Renaud | Mesa, AZ
18
Managed
Reserve at Saratoga | Corpus Christi, TX
274
Owned/Managed
Retreat at Cheyenne Mtn. | Colo Springs, CO
276
Managed
Running Brook | Phoenix, AZ
28
Managed
Sayle Garden | Greenville, TX
119
Managed
Sentry Park | Lubbock, TX
236
Owned/Managed
Seville & Willows | Orlando, FL
151/319
Owned/Managed
Shadow Mtn. Villas | Ahwatukee, AZ
262
Managed
Stratford | Dallas, TX
312
Owned/Managed
Stratford Station | Englewood, CO
192
Owned/Managed
Summerhill Place |Glendale, AZ
232
Owned/Managed
Summit at Thornton | Thornton, CO
322
Managed
Summit Lake | Chandler, AZ
252
Owned/Managed
Sundance | Dallas, TX
407
Owned/Managed
Tarado Mansion B&B | Aribba, CO
5
Managed
Tatum Place | Scottsdale, AZ
164
Managed
Terrace Park | Phoenix, AZ
213
Owned/Managed
Tollgate Creek | Aurora, CO
105
Owned/Managed
Trails | Dallas, TX
302
Managed
Twain | Las Vegas, NV
36
Managed
Villa Carmel | Tempe, AZ
20
Managed
Villa Marbella | Phoenix, AZ
183
Managed
Waterford | Denver, CO
384
Owned/Managed
Waterstone at Jenks | Panama City, FL
264
Owned/Managed
Westcreek | Phoenix, AZ
224
Owned/Managed
Willow Lakes | Port Arthur, TX
372
Owned/Managed
Willowtree | Scottsdale, AZ
181
Managed
Windtree | Ft. Worth, TX
224
Owned/Managed
Woodhill | Ft. Worth, TX
240
Owned/Managed
Woodside | Las Vegas, NV
316
Owned/Managed